The Society of British Theatre Designers are curating a national exhibition project, titled Hello Stranger. It is principally about welcoming designers, makers and audiences back to reconnect. Fri 31 Mar - Sat 29 Apr, 2023.
As the world emerges from the pandemic we face a changed landscape for performance design, scenography and the industry it exists within. Hello Stranger is a national exhibition showcasing a diverse representation of all regions with specific local contexts out of which performance design is created and enjoyed.
Collectively we represent some of the artists that live and work in the North West region.  Prior to the pandemic, many of us had not crossed paths, but having spent much of the last two years working together to create positive change in our industry as well as establishing regional networks of support, we are well placed to showcase the wonderful work created in the region we call home as well help foster further conversations with creative colleagues,  the varied buildings and organisations of the region and the audiences we create for.
Historically, as designers, we are in a privileged position to be part of the creation of something that offers comment and assessment on the challenging world that we live in, both for our audiences and for us as individual artists. After the decimation our industry has faced, how do we collectively continue this essential work? How do we adapt and respond to the lack of diverse voices, climate change and who can't we hear in this conversation?
Our installation all shed light on all of the above and provide a space for a brew and a natter.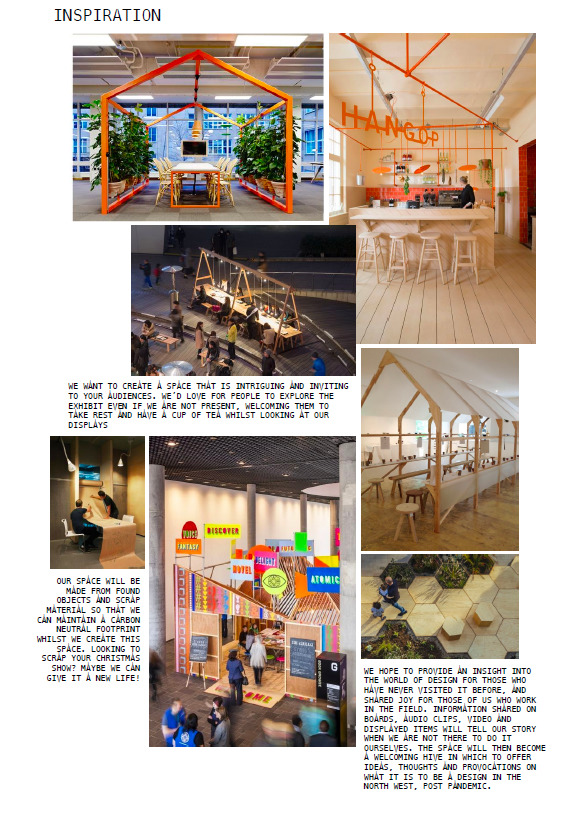 Thanks to LIPA, The Yard and The North West Design Allotment.