Delicious locally sourced produce served fresh from our kitchen coupled with spectacular views.
Next to our theatre is Lakeside Restaurant with perhaps the best views in the country.  Throw in great food and a refreshing drink and you have the ingredients for a wonderful visit.
Below you can find our opening hours, a sample menu and how to make a reservation.
Pre-order interval food and drink
We have a range of drinks and light bites available to pre order when you book your show tickets. Enjoy a glass of prosecco, ice cream or one of our sharing platters.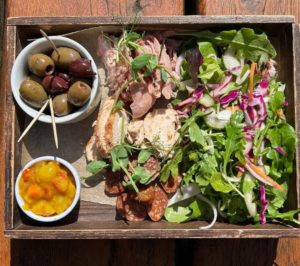 Try one of our tasty sharing platters, with meat and vegetarian options available:
BLENCATHRA | £20
Silver & Greens Olives, Beetroot Falafel, Caramelised Onion Houmous, Roasted Beetroot & Butternut Squash, Hawkshead Piccalilli, Pickled Red Onions, Rocket, Lovingly Artisan Foccacia (2 servings)
GREAT GABLE | £25
Udale's Pulled Ham Hock, Shaws Cumbrian Chorizo, Fragrant Cumbrian Chicken, Silver & Greens Olives, Hawkshead Piccalilli, Rocket, Lovingly Artisan Foccacia (2 servings)