Fri 22 Sep
It's all in the design with Alex Berry
Alex Berry is the designer for Every Brilliant Thing, staged here at Theatre by the Lake 8-23 Sep and then on tour around Cumbria until 8 Oct, 2023.
Had you ever heard of Thelonious Monk and Sonny Rollins…? No neither had we until it became the t-shirt of choice for Andy Turner in Every Brilliant Thing!
Keeping with the theme of beautiful music that features in the show thanks to Andy's dad's love of records, this was the niche jazz band that caught the eye of Alex Berry (designer) and Andy (actor) and resulted in the purchasing of 5 t-shirts for the show… was this record sales for this niche jazz cover t-shirt design we wonder?
Thelonious Monk and Sonny Rollins is a compilation album by jazz pianist and composer Thelonious Monk and saxophonist Sonny Rollins released in 1956 by Prestige Records. The tracks on it were recorded in three sessions between 1953 and 1954.
Alex is a big Sonny Rollins fan and saw him play in Amsterdam when he was in his 70s!! Sonny's version of 'Sunny side of the street' is one of Alex's absolute favourites. Miles Davis's 'Someday my prince will come' is a good 'un too, according to Alex. Alex told us a bit more about the time she saw Sonny… "I was studying over in The Hague at the time. The gig was sold out so I never thought I'd get to see it, then just over an hour before it was due to start my friend called me to say she had a spare ticket but I had to get my bum to Amsterdam. I have never cycled so fast in my life…😅"
Alex then shared how this became their t-shirt of choice "The idea behind the t-shirt is that the narrator is a bit of a music geek so we decided we wanted an album t-shirt to reflect his love of music,  but we didn't want something widely recognisable enough that it would be distracting during the show. An album t-shirt is like an invitation to chat though and there was always the thought that it could be fun if in one of the performances someone did recognise it and wanted to have a chat with Andy about it."
More Fun Facts: The yellow socks are also a nod to the list in the play: #4 The colour yellow. As are the Adidas trainers: #5 Things with stripes.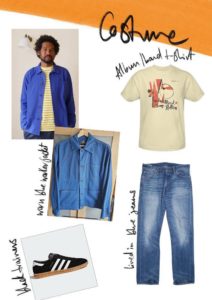 Alex designed the whole show of Every Brilliant Thing, from the neon writing and the orange curtain through to the exhibit in the building allowing our audiences to write on the walls and finally to the outfit Andy wore.
Alex's 'Brilliant Thing' exhibit will be open to the public until October 8, feel free to pop in, write on our walls, add words to our giant magnet board, listen to records, play board games, listen to our audio installation of people's brilliant things.
☀️ Every Brilliant Thing 🚌 On Tour in Cumbria until 8 Oct
FRI 29 SEP 7.30pm The Beggar's Theatre, Millom
SAT 30 SEP 7pm The Centre, Ewanrigg
THU 5 OCT 7.30pm Kirkby Stephen Sports & Social Club
SAT 7 OCT 7.30pm Grasmere Village Hall
SUN 8 OCT 7.30pm Arnside Educational Institute
📲 Samaritans 116 123 available 24 hours a day 365 days a year
Thanks to Every Life Matters, PAPYRUS, Andy's Man Club, iCAN Wellbeing Group, Healthy Hopes Cumbria and The Happy Mum's Foundation!